Links
Wedding planning sure can be overwhelming and emotional; you've so much to think about and there's such an incredible choice of amazing wedding suppliers across Nottingham and the East Midlands! As a wedding makeup artist, I've had the chance to work with and meet some truly fantastic suppliers, and so have put together a list of selected suppliers that I've had the joy of working with over my many years as a makeup artist.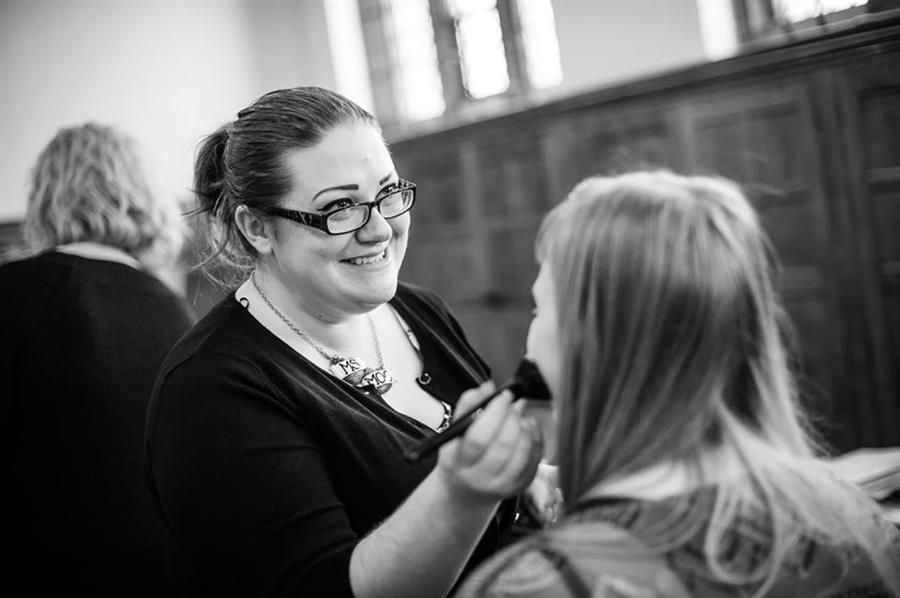 Hair
Everyone Loves Rosie - and it's true! She's a joy to work with and has a wealth of knowledge from her years in business. She really loves weddings!
Helen Sutcliffe - Helen's a calm and quiet influence on your wedding morning and a perfectionist. Watching her work is an absolute treat.
L.H.Professional Hair - Laura's a friendly bubbly human, and we make a good team on your wedding morning. She's calm and collected and knows what she's doing and makes hairstyling look effortless. I think she might be a wizard.
Mon Amie Hair - Amie's super calming and sweet nature is a must on your wedding morning. She's got oodles of salon experience and keeps herself up to speeds with ever-changing fashion. She's a babe! Boho beautiful waves or soft up-dos, she's a master of her craft.
Pin-Up Curl - Sarah needs no introduction if you watched the BBC show Hair! She was a contestant on there back in 2015 and has since hit the ground running (marathon lengths, Usain Bolt speeds!) to build her vintage hairstyling business. Based in Derby, she's happy to travel around but absolutely can't be without a cuppa tea.
Rock n Roller Hair - Sarah's your girl for wedding hair involving extensions. Her knowledge around all things extensions is beyond extensive! She does the most incredible braids and plaits.
Photography
Camera Hannah Photography and Videography - Hannah's approach to photography and film-making is informal and creative, and you'll wonder how she's filmed a wedding and photographed it all at the same time! She's a rainbow-haired magician of a photographer and is a lovely calming influence on your wedding morning.
Ed Godden Photography - Nottinghamshire based Ed is a legend, and takes some incredible photos. I love hearing I've got a wedding that he's photographing! He works all over the UK and does some smashing destination wedding photos too. Stealthy, professional, and very passionate about photography.
Emily and Katy Photography - Nottingham female duo wedding photographers who are guaranteed to make you smile and laugh your socks off! Amazing duo and I swear they can see a moment to be photographed before it's even happened.
Flashes and Lashes - Joint business with Luna Photography specialising in pin-up makeover photoshoots. Based at the studio in Hockley, Nottingham we're on hand for all makeover needs and absolutely love birthdays, hen parties, boudoir makeovers and "why the damn well not?" photoshoots :)
Luna Photography - Wedding and commercial photography business of Emma Allen, Newcastle's best export. I'm biased as she's my best mate but you can believe me when I say she's the easiest person to get on with ever, and will make you feel so comfortable and beautiful in your photos. She's a diamond.
Pear and Bear Photography - Anna is one of Nottingham's up and coming wedding photographers, and her work speaks for itself. The quietest wedding photographer ever, she blends in with your wedding day but is so friendly and takes beautiful documentary styled photos.
SaywellHQ - Nottinghamshire based photographer; stealthy! Takes really lovely non-intrusive photos and captures really lovely moments without you ever knowing he was there.
Styling
GG's Pin Up Couture - Working with GG's regularly is a dream. Her hairwear is bright, modern and packs a wild punch - bound to get you noticed for all the right reasons.
Miss Fleur Couture - Couture wedding flowers and personal styling service. Jewellery designer too, and can craft beautiful floral designs from both fresh and artificial flowers.
Sugar and Vice - I've worked with Sugar and Vice for near 10 years now, and their acrylic jewellery is second to none. They create inventive and creative pieces, with a large range of personalised jewellery, and a customisable wedding collection for all your styling needs.
Everything Else!
Cymbiant - The parent company of the MonkeyPerch, Claire and Andy co-own Cymbiant for all your hosting needs. A range of packages that are mega affordable, put up with technophobes like me easily and thus are very bloody clever people.
Hitched.com - a one-stop-shop to find wedding suppliers with testimonials!
MonkeyPerch Studios - Claire of the Monkey Perch is the reason I started doing makeup all those years ago. It's only right that I asked her to build my websites and by gum, she does a good job. I'm so not technologically minded and yet she can get exactly what's in my head from the MS Paint scribbles I've crafted. Superwoman Claire also co-owns Cymbiant Hosting below. She's powered by coffee.