Archive
Recent Posts
Categories
Hitched Wedding Awards 2023
Well, this is a bit lovely isn't it! I've won an award at the Hitched Wedding Awards 2023.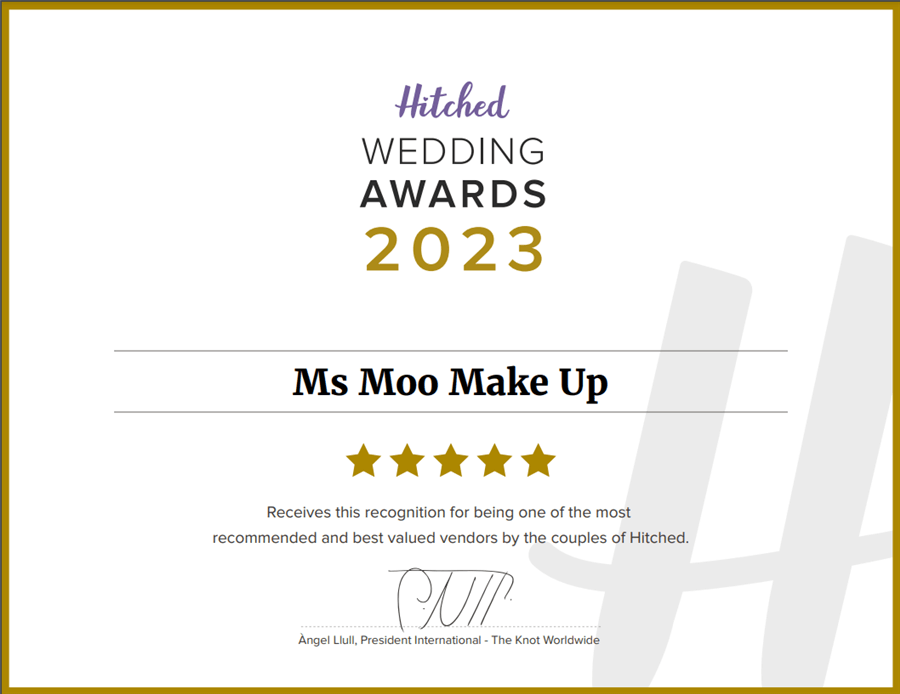 Ms Moo Make Up won the Hitched.co.uk Wedding Awards 2023 and has been proclaimed one of the best wedding professionals in the UK.
This year marks the second edition of the prestigious Hitched Wedding Awards. Over 18,000 wedding vendors registered on the Hitched.co.uk platform were given equal chances of winning. 2022 saw a boom in weddings after the pandemic; this year's edition serves as a tribute to the hard work we've seen in the industry. Ms Moo Make Up is one of the Hitched Wedding Awards 2023 winners in the Beauty, Hair & Make Up category, making them one of the most recommended professionals by newlyweds on Hitched.co.uk.
Ms Moo Make Up, received a total of 35 reviews on their online storefront on Hitched.co.uk and a rating of 5.0 out of 5.0 determined by the couples who planned their weddings with them.
"Recognition is always appreciated, most of all from my lovely clients, and as this is because of the wonderful reviews you've left me on Hitched I'm over the moon!
Thank you to everyone who has left me a review there, and for any/all reviews on Google or my Facebook page. I can't tell you what it means to small businesses to get reviews, not just because it helps with boring stuff like SEO and showing Google we are relevant businesses, but it shows other people who were once like you searching for a makeup artist who they should put their trust in and work with. This has really made my day! Congratulations to the other winners in my area too."
Tags:
about me
,
bridal make-up
,
make-up artist
,
makeup artist
,
freelance makeup artist
,
award-winning
,
Nottingham Wedding Make Up Artist
,
Award Winning Make Up Artist
,
2023 wedding
,
2023
,
Hitched
,
Hitched Wedding Awards 2023
Leave a Comment