Archive
Recent Posts
Categories
MAC and me
"Do you use MAC make-up?"

It's a question I get asked a lot as to what make-up brands I keep in my kit. When a potential client enquires, I go through a few names (the big brands and the smaller ones) but there's noticeably one missing which would often be in other make-up artists' kits. As I then say that I don't use their products before I've had a chance to explain I feel it sometimes goes against me as I then have to justify why I don't.
In short, I personally feel the quality and ethics of other brands are better. In my 1-2-1 make-up lessons, I'll share products covering a range of price points but my high end 'go-to' is often Illamasqua. I just feel the quality of illamasqua products are just better; their packaging is exquisite, the longevity and wear-ability of their products, their pricing is competitive, their ethos ('make-up for your alter ego') and their ethics are second to none. Their support for the S.O.P.H.I.E foundation has been incredible, and more recently their campaign called 'Beauty not Brutality' for cruelty-free products, having recently been accredited by PETA. This quote says more than I can:
"Our respect and compassion for others is what defines Illamasqua's core brand values. We continually challenge the status quo and speak on matters that affect our human fundamentals, while always celebrating the diversity in beauty."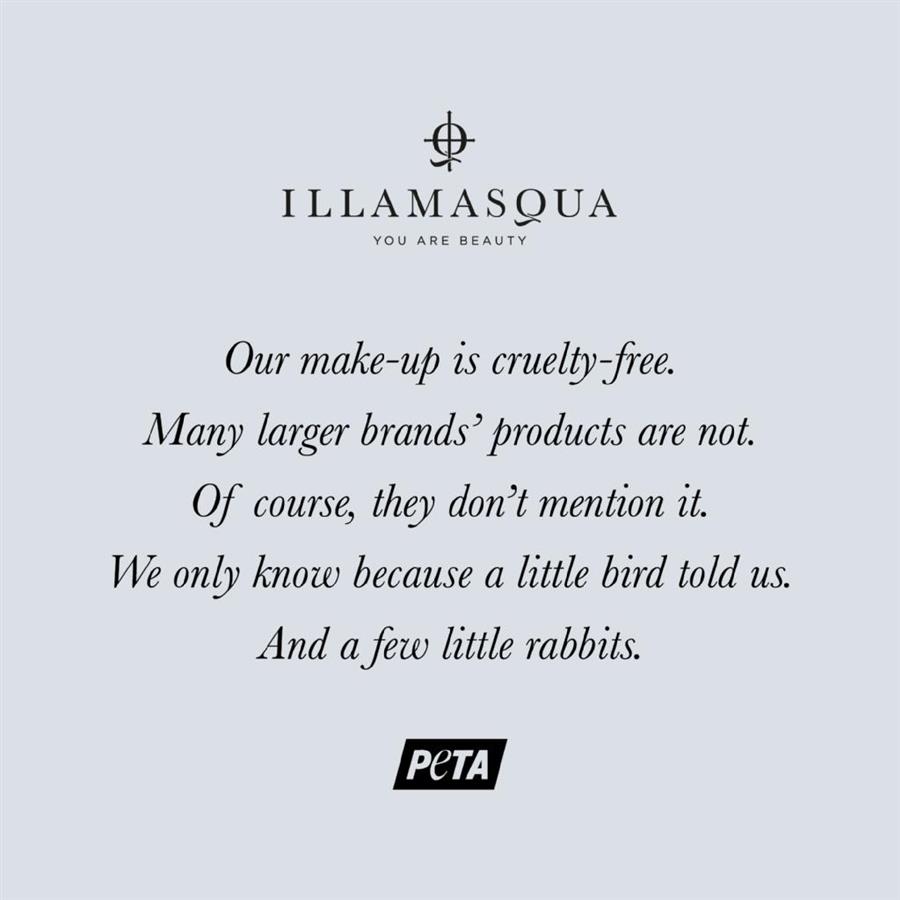 Consistently producing great products, I'm yet *touch wood* to be disappointed by anything from them in my kit. I have favourites which I'm quite likely to never ever stray from. Have you tried their Radiance Veil or Gel Sculpt in Silhouette?! They produce something for everyone and each of their collections is 100% unique. I'm yet to see anything rehashed and sold again. With creative ties such as make-up artist Alex Box, Vivienne Westwood and Agent Provocateur their products work AND are beautiful.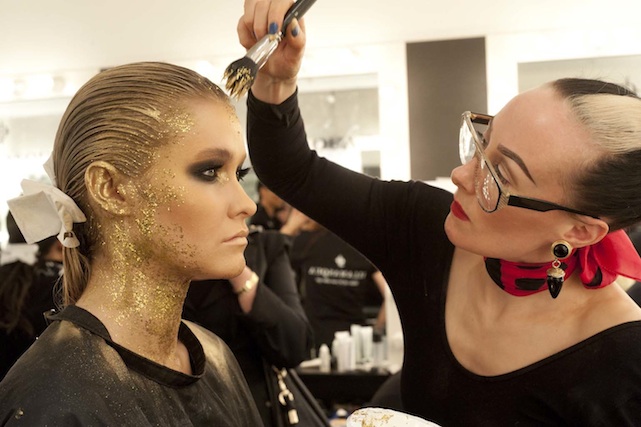 What I've tried from MAC has always just been 'okay'. Some of their eyeshadows are fabulously pigmented, their brushes can be of good quality and their Russian Red/Ruby Woo red lipsticks are a burlesque staple for pin-up starlets. Yet, their brushes aren't synthetic (natural means 'from an animal' i.e. goat and pony can be used by MAC, but other companies still use squirrel or mink), and as they now sell in China they are required by law to test on animals to sell there. They say they don't do it themselves, as they have no testing facility but they've committed to selling in China so have to abide by their laws.
Having had occasions of substandard customer service experiences in a few stores of theirs (in my younger make-up artist days) I made an unconscious decision to not venture in again. I was put off by how I felt in the store and how I was treated; I had a product being pushed upon me to be tested that I hadn't asked about and wanted a red eyeshadow; I wasn't asked why I was told it wouldn't suit me and that I should look at something more neutral. Didn't ask for the advice and didn't get asked what I wanted it for! NB: I know MUAs in MAC stores who are AWESOME people so this is no reflection on all employees, just my experience.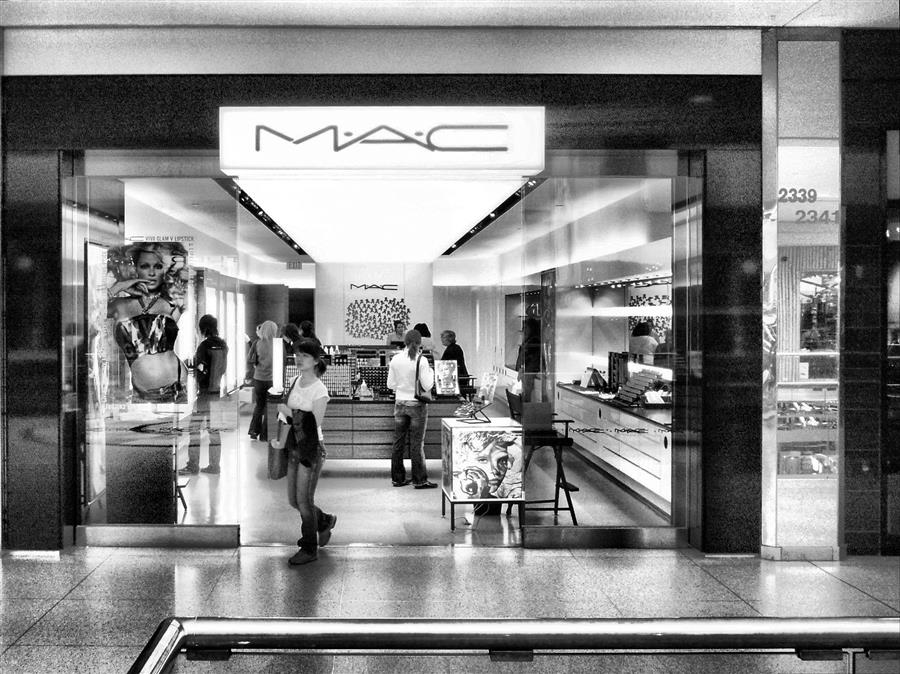 I think MAC has a hold on a large portion of the make-up market and a lot of people assume that they are the best out there. They are arguably the most well-known make-up brand out there that's not in drugstores but are usually readily available on many high streets or at department store concession stands. I think a lot of people buy from them for the name as they'll see a store or advert and feel it's a quality brand as it's well known and is endorsed by a range of celebrities (Cyndi Lauper, Lady Gaga etc.) and talked about by celebrity make-up artists. A lot of the younger generation too (I'm talking Instagram using beauty product obsessed 14-20-year-olds) I believe buy the brand to keep up with their friends and seem 'cool' and 'hip'. NB: never have I felt less cool or hip than typing that sentence...!
I'm not a vegan or vegetarian, but I really don't see why animals should be tested on for humans to look and feel better about themselves. In my old age, I'm trying to be more ethical and make more sensible decisions and whilst I may still eat meat, I purchase from high-welfare stores and make ethical choices about where my food is coming from.
I feel I've rambled a touch here but overall, I think my message is that you need to find what works for you; don't obsessively follow one brand for whatever reason or whoever is endorsing it. What factors draw you into buying a certain brand? Let me know below!
Here are some of my favourite cruelty-free brands: Sugarpill Cosmetics: NYX Cosmetics: Urban Decay: ELF Cosmetics: ZOEVA.
Edit: Have made edits after speaking with a MAC make-up artist (remaining anonymous) who's said they'll message me with more information as to what MAC is doing in regards to animal testing. They also clarified what animal hair is used in a 'natural' brush. I look forward to hearing from them :)
Tags:
Illamasqua
,
Products
,
lipstick
,
makeup
,
vegan
,
red lipstick
,
beauty
,
make-up artist
,
make-up brushes
,
MAC Cosmetics
,
in my kit
,
cruelty free
,
Urban Decay
,
ELF Cosmetics
,
NYX cosmetics
,
Sugarpill Cosmetics
,
ethical
Leave a Comment