Archive
Recent Posts
Categories
Hayley's wedding
Hayley and Lisa got married a year ago today! Congratulations my lovelies! I've not blogged about it yet but it's up their for one of my most memorable weddings ever.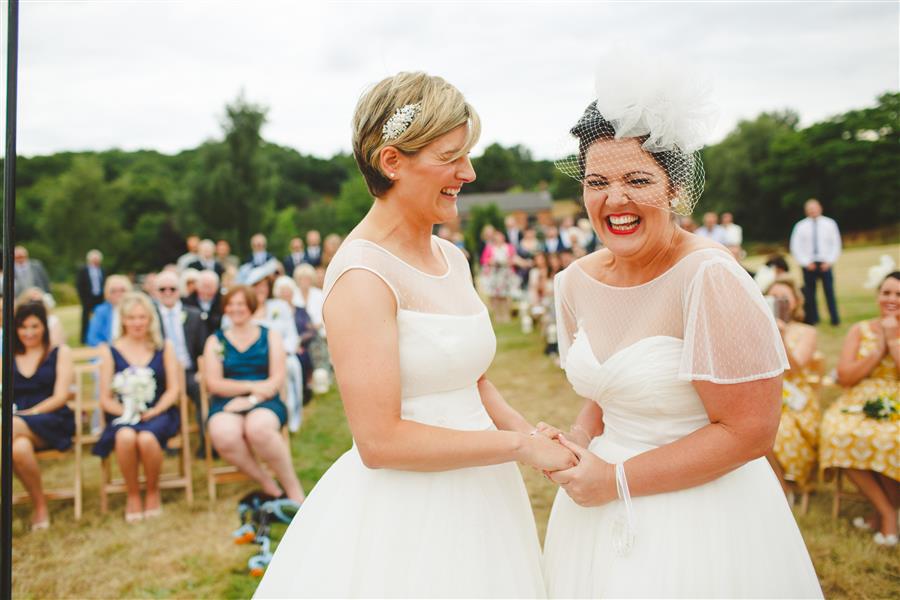 Lisa asked Hayley to marry her under the Eiffel Tower in Paris. On hearing that, I knew I already loved them. They were the first same-sex wedding I've ever done. Actually, they are the only one I've ever done – SO FAR! Lisa is a local bird from Derbyshire and her darling Hayley hails from Australia, but both of them lived and worked in London. In the last 12 months though they've relocated up to Glasgow and are taking Scotland by the horns.
Hayley came to me for a trial and we got on like we'd known each other years. She knew she wanted red lipstick and without absolutely any prompting from me, she chose the perfect red in name and colour; matte & cherry red Maneater by Illamasqua, which she coined 'The ultimate in Lesbian Lip Colour Fashion.' We settled on soft gold for eyeshadow, slightly winged eyeliner and false eyelashes were a must.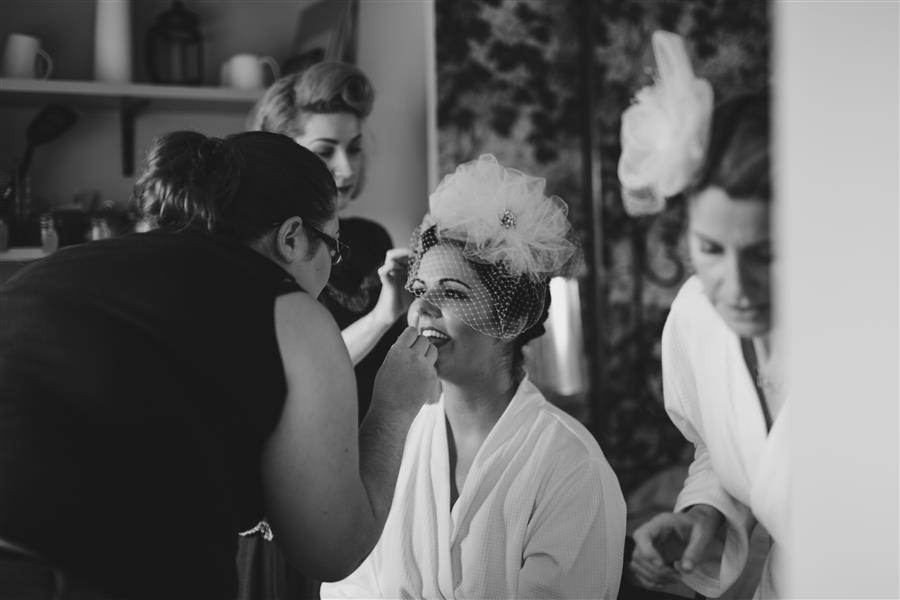 They were getting ready at separate locations but Hayley (who was 'my' bride) was getting ready for her nuptials at their venue Hayeswood Lodge. Having never been to Hayeswood Lodge before (located just outside of Ilkeston), I now know why she wanted to stay there; it's gorgeous! It's maybe no more than 10 minutes walk from the main road but it's so quiet and so beautiful. Lovely little individual rooms, amazingly styled with incredibly lovely hosts and a flippin' amazing breakfast. They aren't a wedding venue though but Hayley and Lisa had managed to twist Dan and Katie's arm into letting them use a field at the lodge for their day and they set up an amazing tipi from Sami's Tipi's.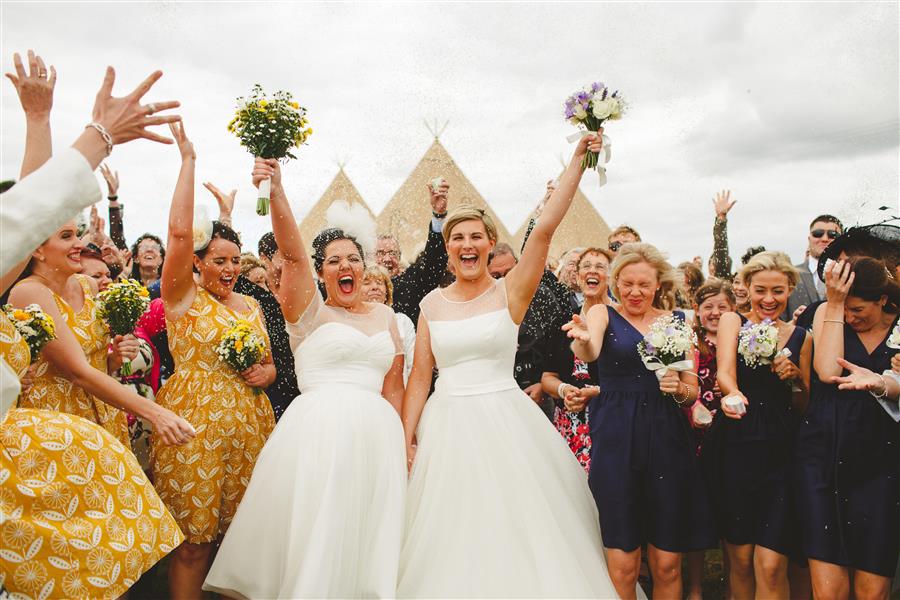 Hayley's gorgeous bridesmaids were also to get the Ms Moo treatment, and she'd also enlisted Lucille's Locks for her bridal party so I absolutely knew it was going to be a good'un. Coupled with then knowing that the fabulous Camera Hannah was shooting the nuptials, I was made up! What a team. With Hayley's parents not being able to travel over from Australia, Facetime was used throughout to keep them informed of all goings-on.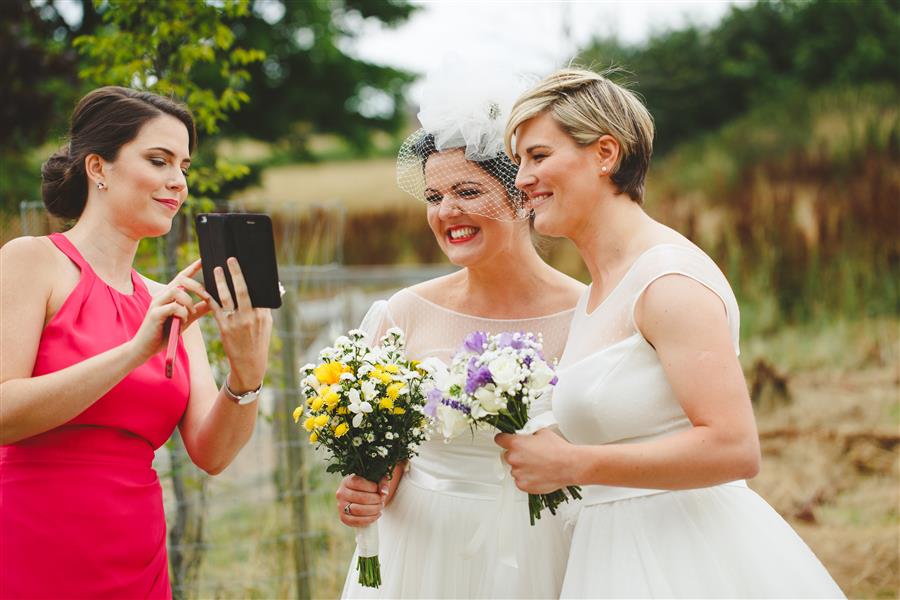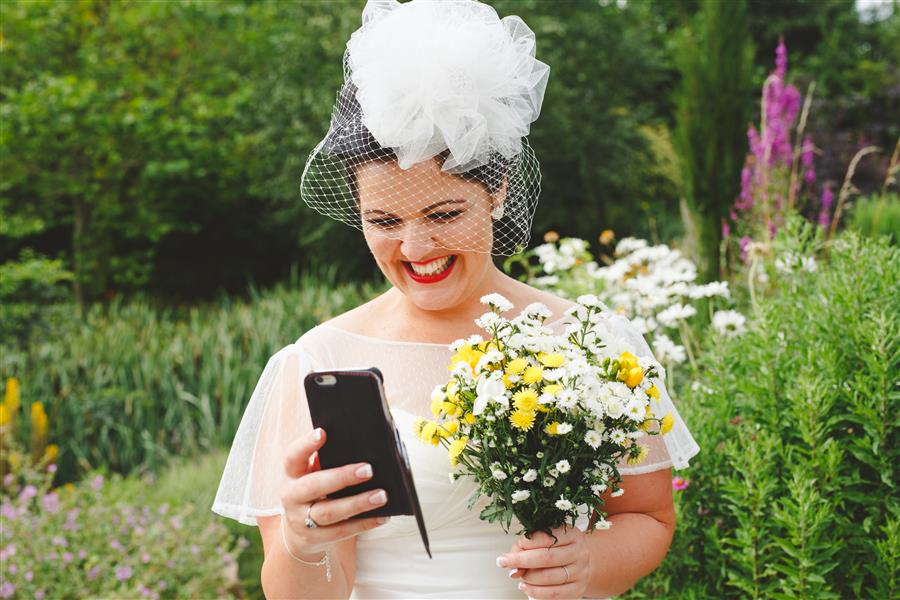 Here's what Hayley said about working with me:
"What can I say, not only did Sali conjure up the most stunning face I could ever have hoped to present to the world (and especially to my beautiful wife-to-be) working with her was such an awesome part of my Big Day. Jokes, endless laughs and lots of congratulatory hugs - it was as if Sali had been a girlfriend for years. My four bridesmaids and I were so grateful and I simply can't recommend her work enough to any brides who want to feel as great as they look for their special day. Can I give 6 stars?!"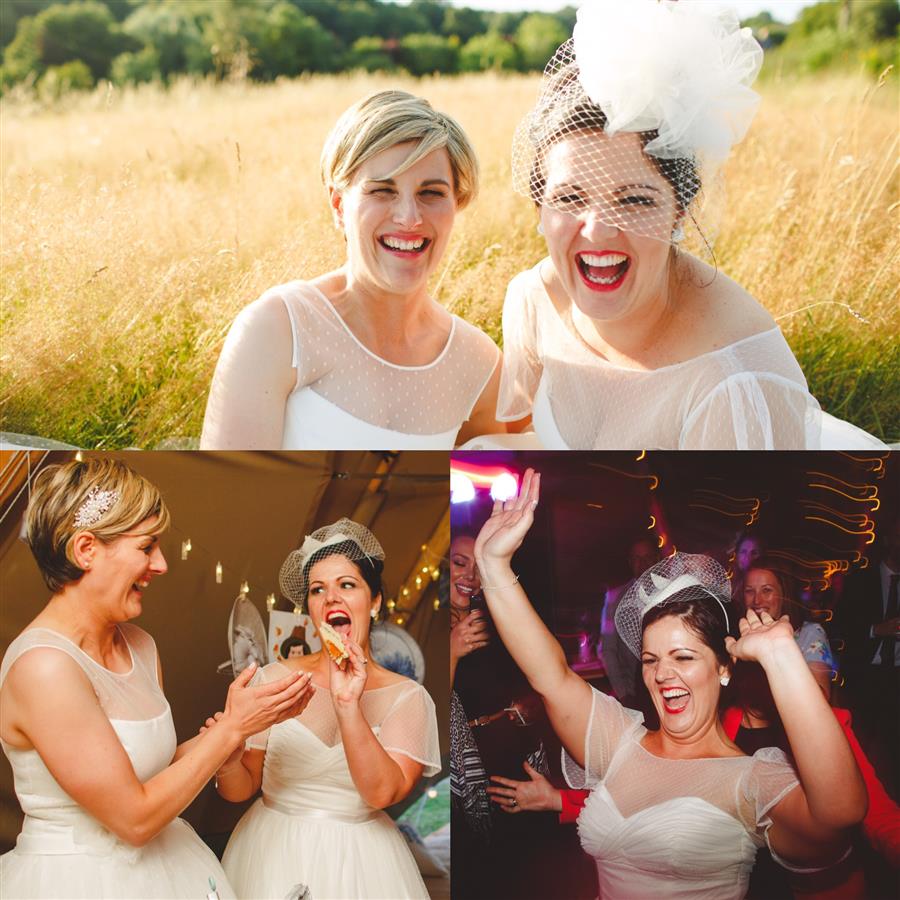 If you'd like to book me for your wedding, drop me an email through here and let me know your date. I've got books open for 2017 and 2018 and a few days left for 2016. Book early to avoid disappointment!
Tags:
Wedding
,
Reviews
,
Derbyshire wedding
,
Illamasqua
,
Ardell Eyelashes - Demi Wispies
,
lipstick
,
makeup
,
wedding suppliers
,
brides to be
,
red lipstick
,
hairstylist
,
bridal hair
,
wedding hair
,
bridal make-up
,
Lucille's Locks
,
wedding makeup
,
bridesmaids
,
wedding morning
,
wedding trial
,
make-up artist
,
wedding makeup review
,
makeup artist
,
flawless make up
,
vintage makeup
,
client review
,
freelance makeup artist
,
Camera Hannah
,
2016
,
fascinators
,
Summer Wedding
Leave a Comment