Archive
Recent Posts
Categories
Top 6 picks for the Illamasqua sale
As you know if you're a reader of my blog or have ever had a 1-2-1 make-up lesson with me, I adore Illamasqua products. They are cruelty-free, have a background in stage make-up (so their stuff stays put!), they have an extensive vegan collection and they actively encourage individuality - you want a deep sea blue and green lipstick? They've got it! Every year, Illamasqua have a January sale and I held out as long as I can because now I know that they'll keep adding things as the month goes on. I hopped over on Friday to have a browse through... Go. Go now. There are some AMAZING bargains!
Radiance Veil - usually £32.00, reduced to £9.60.
GET THIS. You only need a tiny bit of it each time so it will last you a long time but apply it before your foundation and your skin will sing! Using too much will make you look like a glitterball instead of the belle of the ball, but it'll make you look like you've had more sleep than you've actually had. It's got such a light texture, and beautiful finish - not at all heavy or clumpy. It's not that kind of primer to smooth your skin but it does help foundation stay put and give you a healthy glow instead of being glittery. (edit: damnit, out of stock now!)
Demise Palette - usually £34.00, reduced to £10.20.
There are mixed reviews on this palette, but for the sale price, I certainly think it's worth getting. Two beautiful matte shadows, a highlighting white and a creamier rose/red gold shadow. They all blend amazingly too.
Precision Ink in Wisdom - usually £20.50, now £6.15
Beautiful, beautiful colour. These liquid liners apply beautifully with incredible staying power, as long as you don't overload your eyelid. The nib of the applicator allows great precision lines. Suiting eyes that are brown/green/hazel, the hint of gold in 'Wisdom' is lovely. If you don't have time for a full set of eye make-up, a slick of this is both subtle and gorgeous.
Gel Colour in Fluster Pink - usually £22.00, now £6.60
I say to all my make-up lesson clients that the Illamasqua Gel Sculpt in Silhouette is the best contour product out there. The gel blends so effortlessly, and there's nothing else quite like it on the high street. This is their Gel Colour in Fluster; it's not a contour product, but a touch of it on your cheeks and over your cheekbones will add the healthiest hum of colour back to your cheeks. Beautiful in the summer if you're just wearing a bit of tinted moisturiser; you'll soon be using this religiously.
Eye Slick Stick in Mass - usually £18.50, now £5.55
You will not find a better black kohl eyeliner. It's as simple (and brilliant) as that.
Lipstick in Shard - usually £19.50, now £5.85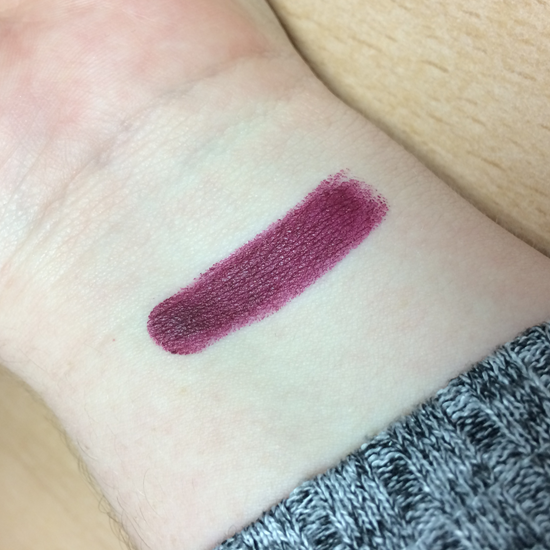 I do love this colour, but I don't think it's anything like how it's shown on the website so here's a swatch on my inner wrist and their stock picture. It's got a matte finish but it's nowhere near as matte as some of their shades. A gorgeous rich wine-like colour which is obviously bang-on-trend right now, and a super warming colour for any occasion. It's not quite any colour in particular, more just that it's red and burgundy and purple all at the same time!
It was really difficult to pick my top 6 items from their sale; they nail polishes are incredible, their Masquara applies so lovelily (and I love the shape of the brush), their lip slicks and lip colours match perfectly to their lipsticks - just all of it! If you can, treat yourself. You won't be disappointed!
Leave a Comment