Archive
Recent Posts
Categories
Interview: Mon Amie
Where have the last five months gone, does anyone know?! There have been so many tier shifts, restrictions, and lockdowns that I haven't known if I'm coming or going. I know I'm not the only one in the wedding industry (or beauty industry, for that matter) who feels like this. The months have felt never-ending, especially when waiting to hear when we can return to work. I miss being a wedding makeup artist so much! I miss my clients. I got to see some in the latter part of 2020 which filled me with such joy!
One such wedding was with one of my recommended suppliers and super wonderful wedding besties, Mon Amie. We caught up at that wedding and despite not being able to hug as we always do, the warmth from being in her company again gave me such hope. She's a wonderful hairstylist and a wonderful human. Find out more about her, her lockdown, and her wishes for the future below!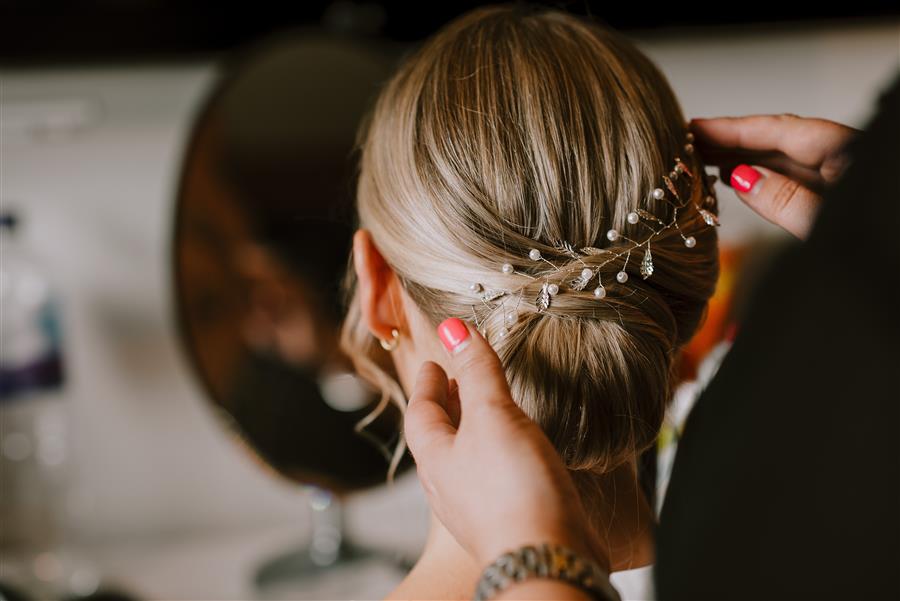 (by Twig and Vine Photography)
Amie! How're things with you?
I'm not doing too bad all things considering! I'm keeping myself busy between homeschooling my son and my mannequin heads. I'm just about staying sane, I found a new love of walking every day too which is making me feel good. Brides are still booking me and I'm still fully booked this summer so I'm grateful for this.
When did you first get into hairdressing/hairstyling and think, 'ooh I like this'?
To be honest, I wasn't sure about hairdressing when I first started, all I ever wanted was to be a doctor in the army (I know I can hardly believe that either). My mum and sister suggested it after I quit my first year of A levels, they saw how much I loved fashion and doing my own hair and makeup so it seemed like the natural route for me. To think they knew me before I knew myself! I was lucky enough to get a job as an apprentice at an incredible salon in Lincoln called Talking Heads. My boss there was like no other, he wanted everyone to do well for themselves and really pushed you to follow your dreams, something that's rare to find in a boss. At that time at Takling Heads there were a couple of incredible stylists who've since gone on to do great things in the hair world. They both taught me so much. I think watching them win the Davine's world style contest really woke up something in me and I thought wow this is such a cool thing to be a part of. I thought, I love what I do and look at what's possible!
What're you looking forward to the most when you get back to work?
I'm a people person through and through, I miss being around people and laughing and making women look and feel great about themselves. I'm not looking forward to those 4am alarms going off though and not sleeping the night before a wedding in case I don't wake up.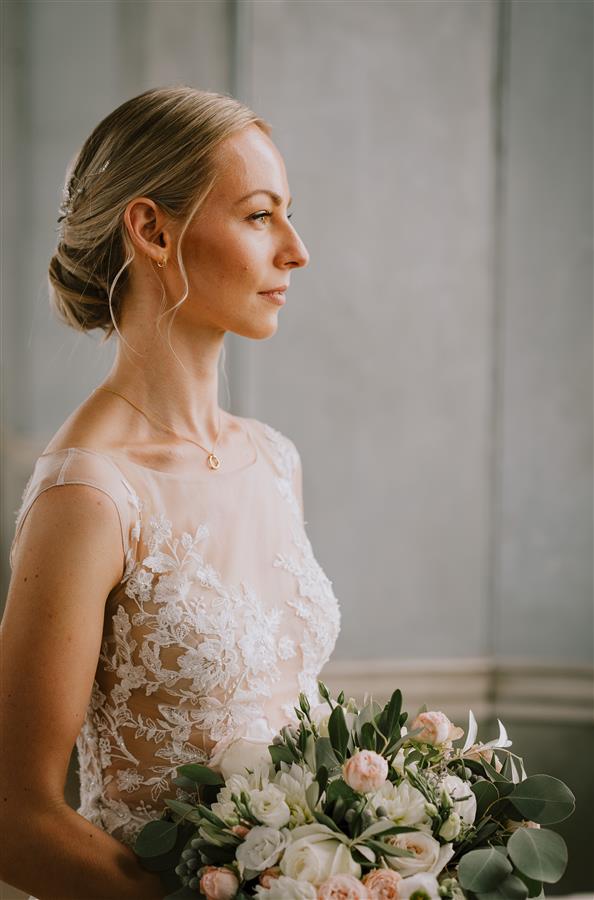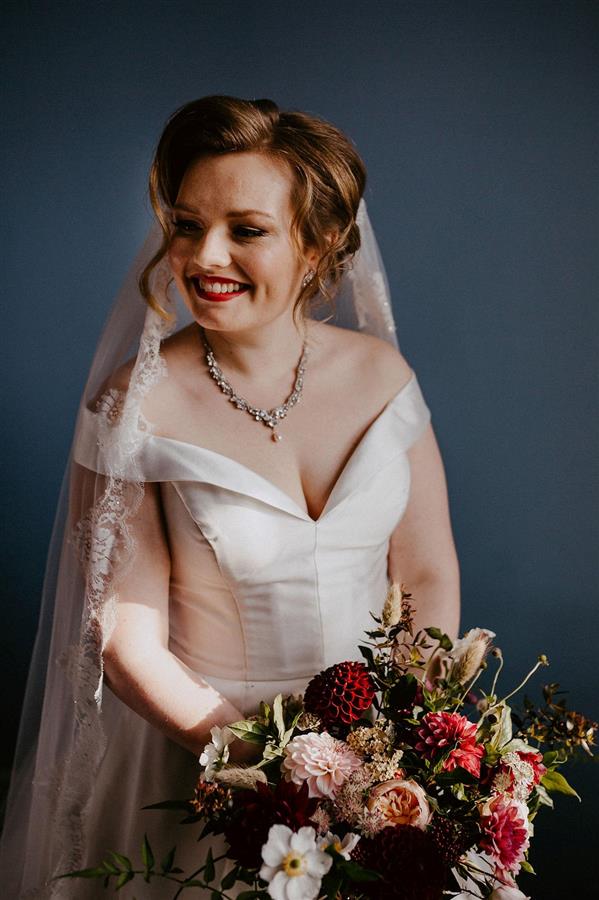 (L: Twig & Vine Photography, R: Anna Rose Heaton Photography)
What, if anything, are you going to do differently?
I don't think things will change much for me once I return to work. I mean I'll be wearing my PPE I'm sure but apart from that, I want things to feel as great as they did before. I've been very easygoing with bookings and cancellations too, I made a decision last summer to stop getting stressed overbooking or asking brides to pay extra to re-book me. It's a personal choice but I feel being easygoing helps me through it. I want to spread kindness wherever I can. I've experienced incredible kindness from a few brides last year and I want to pass that on.
The industry has changed a lot in the ten years I've been in business, and I'm sure it has for you too. What do you lament, and what are you pleased has changed?
Yes, it has incredibly! Things are so fast-paced now, especially with social media and particularly Instagram for me. I love and hate it all at the same time. I'm grateful for it but I also have to take long breaks from it too, I'm sure it's not healthy mentally to be on it too much. A good example of how things have changed is when I first started doing this I used a map and written instructions to get to weddings now that seems ridiculous. Everything has changed beyond recognition mostly for the better with technology. I'm moving with it the best I can and trying not to hold on to past ways.
Tell me about a wedding supplier that you can't wait to see again or that I need to know about.
Oh, this is a difficult one! It sounds cliche but I really do love everyone in the industry around here. We're so lucky to have such a great team of wedding suppliers that all get on. I mean I adore working with you Sali, you create such an air of calm and I'm always thrilled when I know I'm working with you. I love Caroline Kent MUA, her work is incredible, and we always end up giggling when we're together and I always look forward to seeing her. I also have huge admiration for Magda K Photography. The way she's climbed up through this industry in such a short space of time is incredible. I love her vibrant energy and big smile. I also really love seeing Rebecca from Floral Deco, her flowers are just to die for and we always end up chatting shop.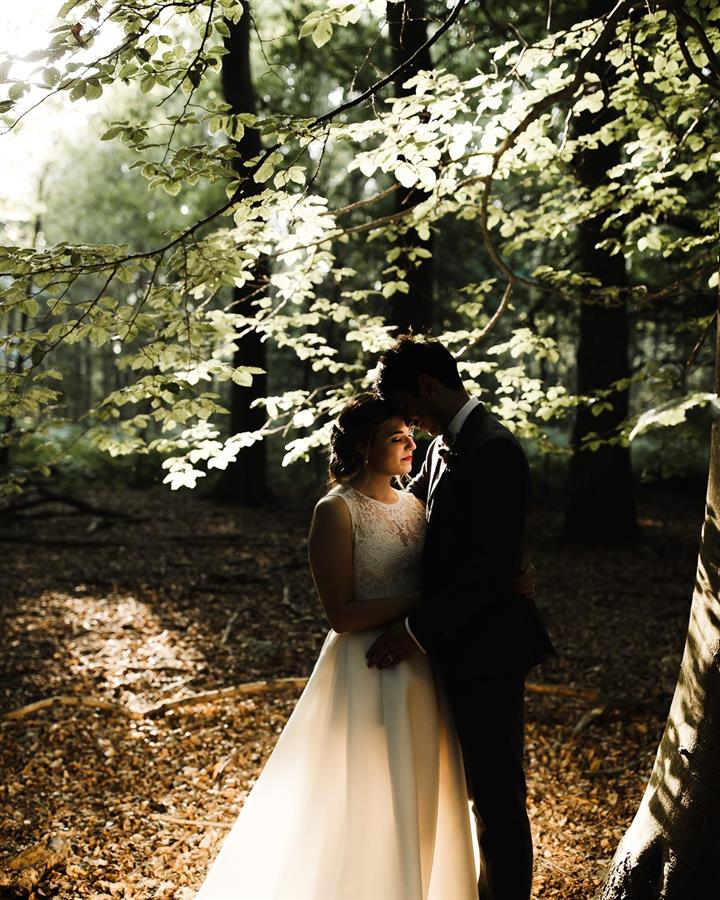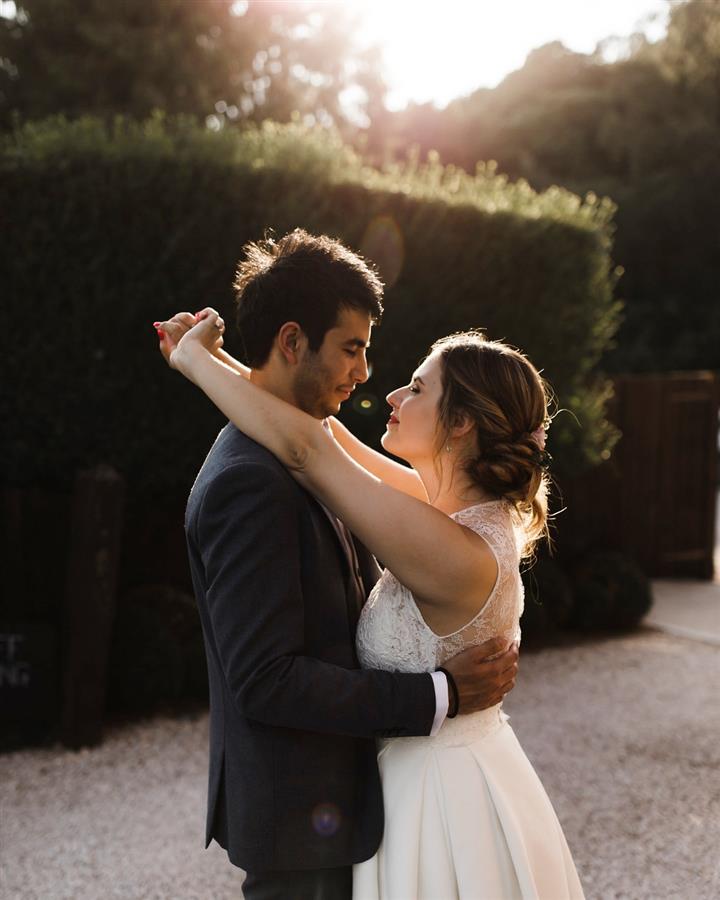 (photos by Lee Garland Photography)
What's been the best thing to come out of lockdown for you or your business?
Getting to know how to use Instagram properly; I know I sound old, I feel it! Creating content and having time to play and be creative has been so good for me. Something I always longed for when I was super busy all the time.
What's the best piece of feedback you've ever had about your work.
I think for me the biggest accolade came last year when Beyond the Ponytail featured me as an artist on their page, for my corner of the industry there isn't a bigger platform. That and generally being told how friendly I am and how at ease I make people feel; that means a lot to me.
Could you pick your favourite wedding experience?
Yes, I can actually, I did I beautiful Norwegian wedding at The West Mill in Derby in 2018. My bride had flown all her family friends (even her vicar) over from Norway, they were amongst the most open-minded, kind-hearted people I've ever met. I wanted to run away with them all, we all ended up hugging and singing before I left. Amongst these beautiful people was a Norwegian pop band the bride and groom knew, they were quite famous over there. I got to watch them set up and I heard a version of 'Yellow' by Coldplay that stays with me to this day. That was my bride's aisle song. Just stunning.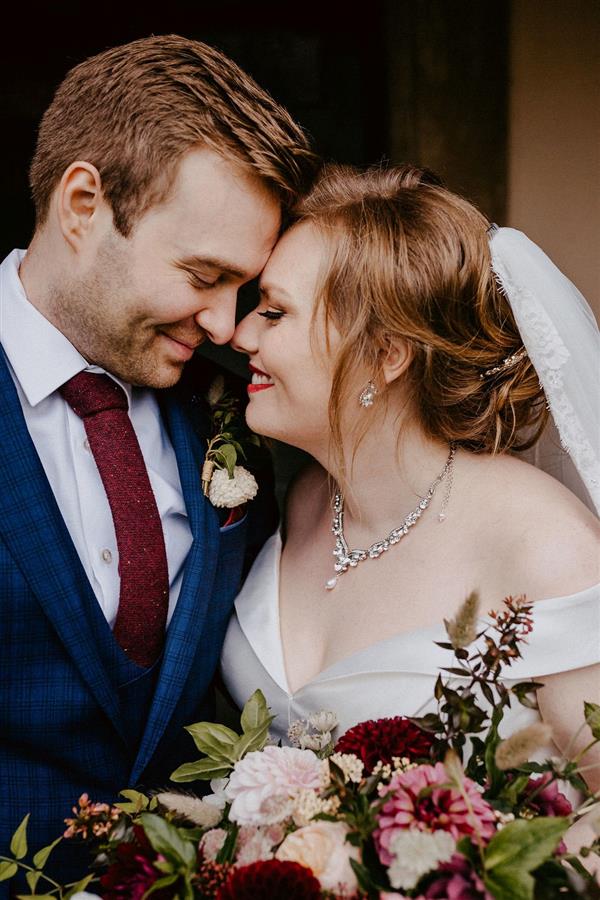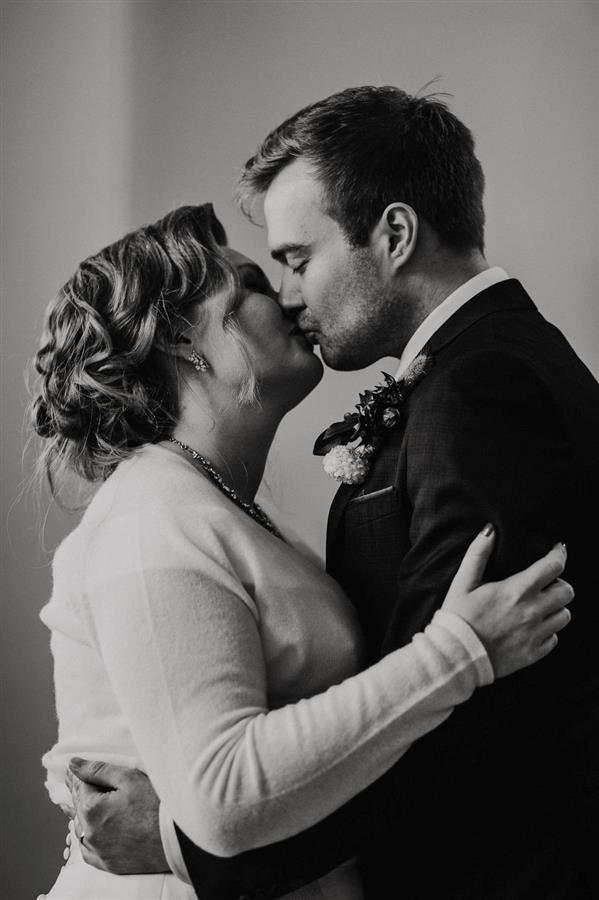 (By Anna Rose Heaton Photography)
What are you most proud of in your career so far?
I think I'm most proud of winning the East Midlands wedding hairstylist of the year in 2017, this was a real turning point in my career and everything elevated from this point.
What you're favourite makeup, skincare, or haircare product?
I've recently treated myself to microdermabrasion with the fabulous Wendy from Lakeside beauty. I've never had any kind of facial before and it blew me away. I bought the cleanser toner, face oil and cream that Wendy sold by Eve Taylor, I have to say it's made a huge difference and I'm so happy with the products I will not be going back to my Nivea. I have to be honest with you Sali I use quite a varied makeup range from Rimmel through to Anastasia Beverly Hills, but I still swear by Collection 2000 for the best liquid eyeliner I've ever used!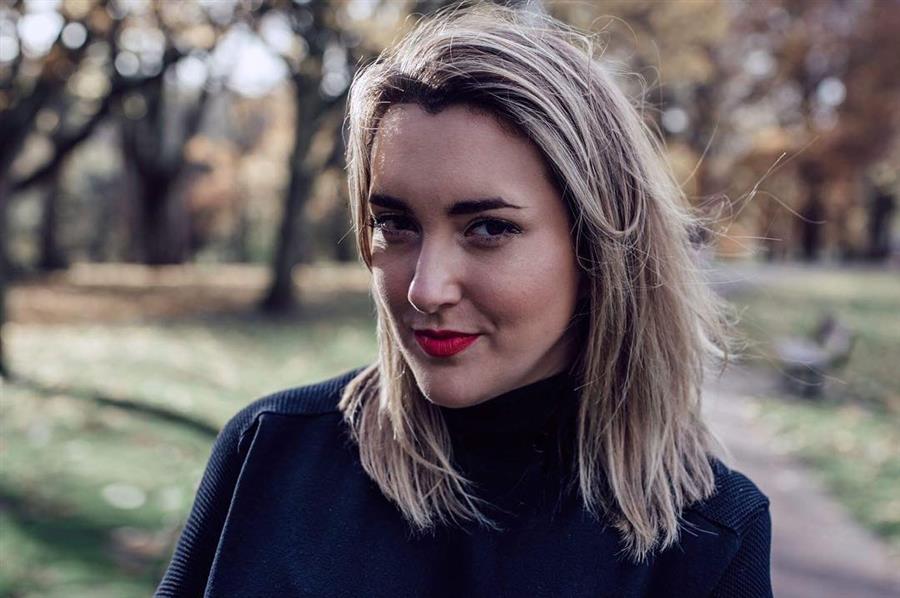 (By MagdaK Photography)
Mon Amie is the Queen of a boho, soft-styled do, with that undone look that stays put all damn day! Take a look at her lovely website and her testimonials to see if you think she'll fit in with your wedding styling; I assure you, she's the type of person to have around on a wedding morning!
Tags:
Wedding
,
wedding suppliers
,
brides to be
,
hairstylist
,
bridal hair
,
wedding hair
,
bridal make-up
,
self-employed
,
The West Mill
,
hair wear
,
Nottinghamshire wedding
,
Mon Amie Hair
,
2020 Wedding
,
Wollaton Hall Wedding
Leave a Comment